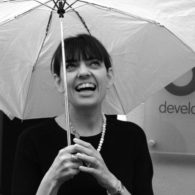 Favourite Quotation?
We must be the change we wish to see.
Which Actress Would Play You In A Film?
Humm, that's rather hard, I would have to choose the Hollywood golden age and say the style icon Hepburn, she would bring the sort of grace, elegance and beauty to the role that I can only dream about, the closest I ever got was an Audrey hairdo on my wedding day.
What Rating Would It Be?
PG naturally. I lead a very clean life!
What Is Your Favourite Cheese?
A soft cheese called Waterloo. I only have it once a year at Christmas so it's a real treat.
What Size Are Your Feet?
I'm a Princess Bigfoot! Size 7.
What Did You Want To Be When You Were Growing Up?
Your Most Unappealing Habit?
You would have to ask my husband.
What Annoys You?
Racism, litter bugs and lack of manners.