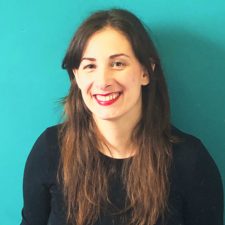 What Is Your Favourite Thing About Being Part Of The DCo Team?
I value the honesty I have with Indira and the encouragement that I receive to share ideas and grow within my role, in ways which allow me to play to my strengths. Negative feedback is always constructive and comes with plenty of support. It feels good to know that we practise what we preach.
What Is Your Personal Career Highlight?
Being given a much more focused and hands on role than was originally meant for me makes me feel really good about myself.
If You Found £10 In Your Pocket What Would You Spend It On?
An expensive piece of cheese and a cheap bottle of wine.
What Is Your All-Time Favourite TV Show?
It's hard for me to decide between Twin Peaks, The X-Files and Northern Exposure. Twin Peaks probably has the edge because I love the 'feel' of it as well as the story.
What's Your Favourite Way To Relax?
I love going out for lunch, I would do it every weekend if I could.
Saturday Night Or Sunday Morning?
Saturday night – I rarely go out but good food and drink, good company and the freedom to go where the night takes you is the best feeling.