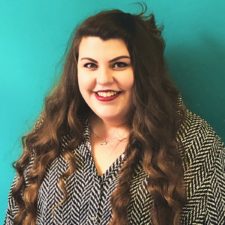 What Was Your Favourite Toy When You Were A Child?
A large stuffed dalmatian called Gromit. He's had many 'wounds' repaired throughout the years (patched up by my mum whilst I watched on in horror) and his ears have been pulled off multiple times – he looked stylish in an ear ponytail; what can I say? – but I'm glad to report he's still going strong. His current place of residence is at the bottom of my bed.
What Are You Saving Up For?
Adulthood has finally caught up with me and I've recently bought my first house, so all my spare pennies have been going on making it a home.
Who Inspires You On A Daily Basis?
My parents, my partner Andy and my stepdaughter Ellie. Also, the creator of Chilli Heatwave Doritos has to have a shout-out here – I have never encountered anything quite like a Chilli Heatwave Dorito.
Cider or Cocktails?
Definitely cocktails. There's nothing better than sitting in the sun on a boiling hot day with a Tequila Sunrise (or 5).
What Four Words Best Describe You?
This is the hardest question to answer I think! After several failed attempts, I used a lifeline and asked the audience (the ladies in the office) and they said I was an 'optimistic ray of sunshine' – not going to complain about that!
What Top Tip Would You Like To Share With The World?
Say 'yes' to things you would usually say no to because they're out of your comfort zone (obviously within reason!). Start small and move onto bigger things. Who knows what exciting opportunities lie out there for you – 'yes' will open many doors!